The Basic Captive Structure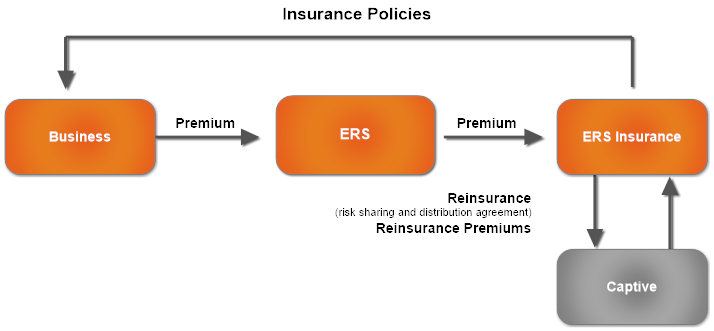 Who Should Consider a Captive?
Businesses in an insurance inadequate field
Privately held family business (all business types)
Highly compensated professionals
Revenues over $5 million per year
Businesses which are consistently profitable
Who can own the Captive?
Individuals
Trust(s)/FLP(s)
LLC(s)
Partnership(s)
Corporation(s)
Common business types participating:
Construction, finance, energy, healthcare, retail, transportation, general contracting, professional athletes, and many more...
Assumptions:
ERS Insurance is a Utah Captive Insurance Company
Premium is $1 million
Policies - $1 million limit per coverage
Enterprise Risk Strategies is the Captive Manager for both ERS Insurance and Small Insurance Companies.
---
How it works
Insured pays premium to Enterprise Risk Strategies
Enterprise Risk Strategies remits premium to ERS Insurance
ERS Insurance issues policies to Insured with $1 million limit per coverage
ERS Insurance re-insures to Captive's 1st layer of risk (first dollar through a set limit) [A]
ERS Insurance places 2nd layer of risk (total limits net of 1st layer of risk) into reinsurance pool
ERS Insurance cedes risk in reinsurance pool to Captive [B]